What is Home Care Nursing?
How do you know when your home care plan should include nursing services?
"When you're a nurse, you know that everyday you will touch a life or a life will touch yours" – Anonymous
We believe everyone should be able to live at home but if you are caring for a loved one who's wish is to stay in their own home, there may be times when you simply don't have the medical skills or knowledge to provide the level of care required, or enough hours in your already full day to provide the amount of care needed.
Can I access nursing services at home?
The simple answer is yes.
It's important to remember the care needs may vary over time from low to very high levels of care. At Nurse Next Door, some clients don't access home care until high level nursing services are required. Others start their home care plan with a few hours a week of companionship, and non-medical care, to both build relationships with their care team and to help maintain their independence before finding themselves in a crisis, such as a fall, that means high-level care is immediately required . And sometimes clients have a team of caregivers, Registered Nurses (RN) and Enrolled Nurses (EN) providing 24/7 care that encompasses both medical and non-medical care such as transportation or meal preparation (non-medical care) whilst receiving high levels of medical care (nursing).
So what is the difference between an RN and an EN?
This is a very common question. The short answer? Both RNs and ENs are highly skilled professionals who have undertaken study and continue to participate in professional development and training to hold their title.
Registered Nurse (RN)
A registered nurse has a minimum 3 years Bachelor of Nursing degree –  a course that blends theory and practical experience giving the nurse experience in a variety of settings: from medical and surgical wards to community and aged care, mental health units and emergency departments. An RN has experience and knowledge in supervising a team as well as creating and managing a patient's care plan. 
Enrolled Nurse (EN)
An Enrolled Nurse or EN has a diploma qualification and is like an RN, is registered with the Nursing and Midwifery Board of Australia. They have strong knowledge in the administration and monitoring of patient care.
All of Nurse Next Door's Registered Nurses and Enrolled Nurses are members of the Australian Health Practitioner Regulation Agency (AHPRA).
Each of nurses is carefully selected to match your personality and variety of special interests.  Ranging from low to very high levels of care, our nurses will support you, whether that be around-the-clock 24/7 care or hourly care to assist with injections or continence and catheter management, whatever your needs require our home care nursing team will make sure you are as comfortable as possible in your own surroundings.
Care Designer
Like all care management plans designed by medical professionals, your home care plan is the result of discussions between you, your family and your Care Designer and at Nurse Next Door our Care Designer's are Registered Nurses (RN).  The care plan is created during your free caring consult done in your home. Once services begin, your Care Designer will continue to be your single point of contact ensuing a continuity of care.  Your Care Designer will also oversee your care team and keep a close eye on any circumstances that change or care services that need to be increased of reduced.
Our Care Designers are not only interested in your home care nursing requirements but also in ensuring you are doing what you love, to bring happiness to your life. For some that is helping to prepare meals or getting back outside. For others it is having a companion to travel with or re-learning a lost skill. No matter how big or small, the Care Designer's role is to ensure you have a positive outlook and feel empowered to keep living your life to its fullest.
24 Hour Nursing Care
When high-level care is required, an around-the-clock home care nursing program ensures a team of caregivers and nurses attend to the care plan so that you, your loved one's friends, and family can come and go as they please, drop in for a cup of tea or stop in for meal time, just as they always have.
From scheduled nursing visits to hourly care, someone will always be there to help, 24 hours a day, seven days a week. Your Care Designer will monitor changing conditions and help you adjust the services as required to meet those changing needs to ensure that your home care nursing team continue to provide the highest standard of nursing care and attention to your loved one.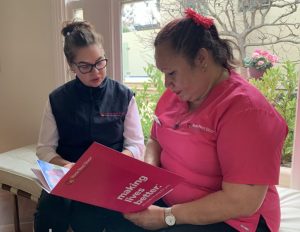 Maintaining independence
In the end, what we hear most from those needing care, or caring for someone they love, is the desire to develop a care plan that is focused around independence and comfort. At Nurse Next Door we understand there's no place like home so flexibility is the key to all our home nursing services. With the right home care plan in place, no matter the level of care or the length of care you or your loved one needs, or the hours that care is required, your care team can consist of highly qualified nurses, most often with years of experience in hospitals, providing one-on-one care to not only help maintain independence at home but be wonderful company as well.
Are you caring for a parent or loved one and wondering how you'll take a holiday this summer? Contact Nurse Next Door today on 1300 600 247 to discuss how we can help maintain your care plan whilst you take a short break.