6 Common Questions About Home Care
Understanding How Home Care Services Create Independence And Happiness
"Independence? …. We are all dependent on one another, every soul of us on earth." – George Bernard Shaw
As a provider of an essential service, we at Nurse Next Door take our responsibility in delivering home care services to the community very seriously. We know our home care services make it possible for people to live in their own home on their terms and our extraordinary family of nurses and caregivers take care of the more vulnerable people in our community as if they were their own family.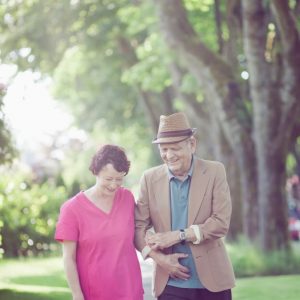 But when you realise you or someone you love may need a little extra help to remain at home, it can be confusing to know who is best placed to help. In this article we're answering some of the most commonly asked questions and explaining the benefits and opportunities home care provides for those who need a little extra assistance to remain independent in their own community.
My son has a disability and needs some support with day to day activities. Can you help him?
Yes. Home care should always be focused on Making Lives Better™ and, for those people living with a disability, a home care plan can help them lead a life full of possibility and give them the confidence to do everything they want to do with the help of an experienced professional caregiver by their side.
Our Care Designer will establish a relationship with both you and your NDIS support coordinator and work together collaboratively to develop and coordinate a personalised care plan from the start. We can assist with daily tasks and routines as well as assisting your son to explore and participate in community-based activities to help build and maintain friendships and his plan will be developed to meet his needs and improve his health and wellbeing.
Most importantly, your son's goals and dreams will be central to his home care plan.
Mum's on her own and I'm working full time. Can I arrange for someone to keep her company?
Yes. It is no secret that loneliness is one of the underlying causes of depression as we age, with up to 15 percent of older Australians experiencing depression and 10 percent suffering from anxiety. The move from work to retirement, losing friends and family or suffering from a chronic illness may leave your mum or dad feeling uneasy and isolated from their community. Over time you may notice various symptoms of depression including withdrawing from friends and family, neglecting their own care or daily responsibilities, a change in sleep patterns or a loss or change in appetite.
The goal of home care is to reverse that feeling through companionship care.
This is why we developed our Happier Ageing philosophy and a model of care underpinned by five pillars: Choice, Belonging, Respect, Autonomy and Purpose. These five pillars are the cornerstone of a strong sense of self and are designed to help our clients reconnect with the things that make them happy.
Whether we accompany mum shopping or to a local community class, help get her back out in the garden, provide access to technology that keeps her connected or simply sit and chat over a cup of coffee, your mum's Care team will focus on her happiness and provide companionship to give you peace of mind when you can't be there with her.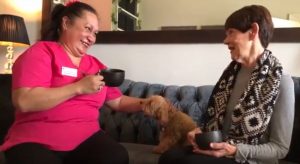 I don't think Dad's eating properly. Can you help with shopping and meal preparation?
Yes. Many of our caregivers provide light house duties, meal preparation, transportation and companionship for our clients, without any medical care being required.
Sometimes not eating properly is simply a result of 'mum' doing all the cooking, or perhaps there's an underlying concern around depression or chronic illness. We'll talk with you and your dad to ensure his care plan considers both his immediate needs to eat well and his mental wellbeing for the longer term, as well as perhaps some simple cooking lessons to ensure he gains his confidence in the kitchen.
One of the roles of our caregivers is to uncover what it is your dad really loves doing, to maintain his sense of self and happiness now he's on his own. That might involve getting him back in the garden and growing some of his own produce, having a game of chess once the meal is in the oven, or chatting about a favourite movie or book after lunch.
I'm interstate and can't provide care for my parents right now. Do you offer short term home care until I can return?
Yes. Whether you need a few hours of care a week or 24/7 care, for one week or ongoing, our home care services are flexible with no long-term contracts.
All our care starts with a Care Designer talking with you and, if possible, meeting your parents. Whether this is via phone conference or an online virtual chat we can arrange to have everyone "in the same room" to discuss the care needed. In some instances, we have provided care for someone for one day whilst we have other clients who have a team of carers around the clock. The care plan is designed with both your and your parents' peace of mind a priority.
We need a nurse to help my sister who's coming home from the hospital. Do you have home care nurses?
Yes. Your sister's Care team, including registered and enrolled nurses as needed, can meet your sister before or while she is in hospital and work with her extended healthcare team (GP, surgeon, nurses and discharge planners) to ensure a seamless move from hospital to home.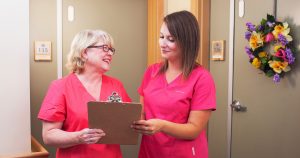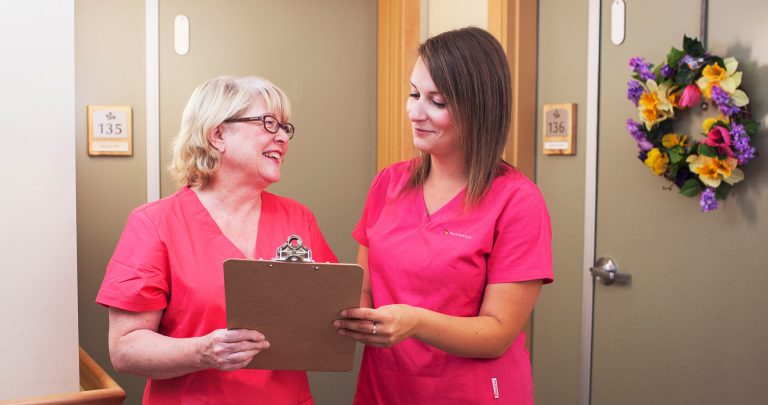 Her Care team will be determined on the level of care she needs and may even include a team with a range of skills to ensure all her needs, both medical and non-medical care: from wound management, tube feeding and assistance with medication to light house duties, shopping and meal preparation, are taken care of while she's unwell.
As there are no long term contracts we can set up a care plan that provides just the right amount of care your sister needs until she is well enough to care for herself again.
My grandfather has dementia. He wants to live at home but we can't be there to look after him. Can you help?
Yes. Our main focus for our clients with dementia or Alzheimer's is to help them maintain their regular routines despite the cognitive decline.
Our caregivers are trained in dementia and Alzheimer's care and recognise that each situation is unique. We understand your grandfather may be confused and have mood and personality swings and we can not only provide the care your grandfather needs but also offer guidance to you and your family to deal with ongoing challenges.
Receiving care in the familiar setting of his own home with a perfectly matched, consistent Care team is our priority for two reasons: and 1) so your Grandfather is building trust with his caregivers and is happy to see them and 2) so our Care team can recognise any inconsistencies in your grandfather's behaviour and routines, 
We are always providing professional development opportunities for all our caregivers to learn and experience the needs of people dealing with dementia. Our caregivers participate in sessions such as Moove and Groove to explore the impact of music and technology to assist with his cognitive function and socialisation.
There are many different reasons people access home care services, from respite care to palliative care but for every single one of our clients, the priority is to ensure they are living independently at home surrounded by friends and family and able to remain connected to their local community.
We believe, with a positive outlook and an ability to remain in your own home, you are empowered to keep living life to the fullest. For any questions you have about how home care can help you or a loved one remain living independently at home, call us on 1300 600 247 or visit our website www.nursenextdoor.com.au

to organise a FREE Caring Consult.