How Do I Fund My Home Care Plan?
Understanding Home Care and how best to fund the right care for you
"Never believe that a few caring people can't change the world. For, indeed, that's all who ever have" – Margaret Mead
One of the most common things we hear from families and people in need of care is: how will I afford the care I need? The media is filled with stories of people not being able to access government funding for home care and, understandably, people are nervous about the cost and financial commitment involved in both accessing residential care or remaining at home.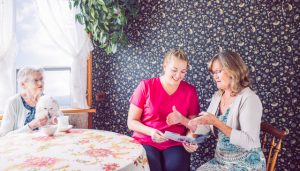 The reality is, premium home care services are usually cheaper than a personal trainer, GP visit or other allied health professionals. Accessing non-medical home services early on, before acute or high-level care is required, can actually prolong the need for those high-level services.
So what are the options that ensure you can access quality care services in the comfort of your own home?
Privately Paid Home Care
Not everyone realises that you always have the option to pay privately for any and all home care services you require. Private pay is particularly useful in aged care, whilst waiting for access to either the CHSP or HCP funding or if you find that you would like more services than government funding will allow for. For anyone wishing to remain in their own home it can be a good idea to chat with a financial planner, friends and family about whether you're in a situation to pay for the services you need without government support, giving you greater freedom to access any service at any time.
Commonwealth Home Support Program
This funding program is aimed at older Australians who need home care to assist with daily living  – those extra services that provide support for domestic and personal care such as light housekeeping or bathing; minor home maintenance and minor home modifications; nursing care, social support and transport. It is considered "entry level" care and is for people who can manage on their own but may need home care services to ensure they can remain independent in their community.
Home Care Package
The Home Care Package (HCP) is a federally funded program for older people with greater or more complex levels of need who wish to remain at home. You will need to organise an assessment by an Aged Care Assessment Team/Service (ACAT/S) in order to receive a Home Care Package. There are four levels, based on the different care needs you have:
Level 1 = Basic Care Needs
Level 2 = Low Level Care Needs
Level 3 = Intermediate Care Needs
Level 4 = High Level Care Needs
The type of care and services available are the same across all four levels, it is the hours of care that change with each level. The ACAT will help you determine what level of care will be best for you. Services available to you will be based on your individual needs, and may include:
Transport and Social  Support to help with shopping, banking, appointments or simply providing company
Domestic Assistance for light house jobs such as cleaning or helping with the laundry
Personal Care including showering, dressing, hair care, etc
Nursing Care to  provide qualified nurses for specific care such as dressing a wound or managing a PEG/feeding tube
Meal Preparation and Food Services
Help with medication
Supplements are provided for those with additional needs: there is a Dementia Supplement for people living with Dementia and a Veterans Supplement for veterans living with a mental health condition.  Home Care Packages are managed by your home care provider who is responsible for ensuring you receive the correct services and level of care required. An administration fee is charged for this management service.
NDIS
NDIS or the National Disability Insurance Scheme is for Australians over the age of 7 who have a permanent and significant disability and need support to live an ordinary life and achieve independence, education, employment, health and wellbeing. For those aged 65 years+, if you have NOT been approved for NDIS prior to turning 65, you will not be eligible for NDIS but will access your home care funding through either the CHSP or CHP aged care funding programs.
NDIS funding can be self-managed or managed by a support worker and, once accessed, can be directed to those services and support structures best suited to each individual.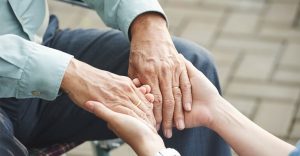 What about Medicare & private health insurance?
Because the government funds home care through either the two home care programs mentioned above, or through the NDIS for those living with a disability, if you're paying for home care privately most services won't be covered by Medicare. 
In terms of cover from your health insurance, some home care services that would otherwise be provided in a hospital, such as specialist nursing care or even help with cooking and cleaning, may be included in hospital cover policies. Extras cover can often include home care services such as home nursing, rehabilitation and palliative care. The cover available will depend very much on your health fund and the level of cover you have so it is best to contact your health insurance provider and talk to them in detail about the home care you are planning or receiving.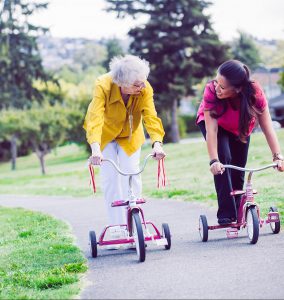 We believe you can stay at home. If you're wondering about the costs of home care, and how best to fund your home care plan, learn more at Nurse Next Door or contact us on 1300 600 247 today for a free, no obligation, Caring Consult.