Making Dad's Life Better
5 strategies to use when planning home care with your Dad
"I smile because you're my father. I laugh because there's nothing you can do about it." – Unknown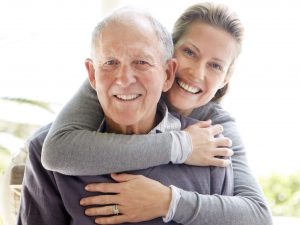 If you're the primary carer for your Dad, your goal is making his life better. But when you're planning home care with your Dad, or assisting in planning home care for an older male family member or friend, you know there can be some very real hurdles to ensuring your Dad experiences happier ageing in his own home.
Used to being the provider, your Dad attaches a stigma to seeking help at home. He is concerned that the need for home care signals the loss of his strength and independence. So he hides away in the family home pretending everything is OK. You worry and drop in often to check on him, all while juggling your own family, work and life commitments.
A study by Western Sydney University looking specifically at the barriers surrounding older men's access to care services, confirmed that most men avoid seeking care outside of the family. The study showed the major barriers affecting your Dad include:
      – The idea he should be able to manage himself
      – Being embarrassed to ask for help
      – A lack of awareness of the services available to him and his eligibility for those services
Sound familiar? Rest assured, there are simple ways to ensure your Dad gets the home care he needs. And you can focus on making life better not only for him but your whole family. Better still, you can get back to being the loving daughter and enjoy your relationship with him for years to come.
Support His Independence
It will come as no surprise that your Dad places a high importance on his independence. We all do. It's important to reassure him that he can stay in his own home for as long as he likes. In fact, accessing home care services will give him the ability to age independently at home forever. Remind him that having a caregiver help with meal preparation, house duties or transportation will give him greater independence. With the right home care services in place he'll have time to do the things he loves.
Seeking rather than needing
Consider the language you use when discussing home care with him. Talk to him about "seeking" rather than "needing" care to give him a  greater sense of control. Refer to yourself as his daughter, not as his carer. Remember that he has, for most of his life, being the person upon whom the rest of the family, including you, relies. Using words such as frail or elderly will reinforce his fear that he is losing control of his own destiny which has a huge impact on how he views home care.
Give Him A Voice
Include him in the conversation and speak with him rather than about him. It helps to talk to your home care provider about the services available ahead of time, and then highlight the possibilities with your Dad. However, you approach it, be sure to talk to your Dad about what he wants. Does he need home care nursing or does he just want assistance with housekeeping? Is he seeking help with personal care? Is transportation and accompaniment to appointments and activities all that is needed right now to make his life better? Work together with your care services team to create the right level of care. With the right level of care in place, your Dad will soon be comfortable to use all the home care services available to him.
Once you've established the right level of care, take the time to work with a home care provider to match the right caregiver with your Dad. What are his interests? What sort of culture or home environment is he used to? Are there language barriers? Will he be more comfortable with a female or male caregiver? Ensure his caregiver is expertly matched to provide ongoing care and companionship that makes a positive difference in his life. 
Doing What He Loves
Like you, your Dad formed his values from a long life of experiences. His sense of self, for the large part, comes from being the "head of the family". His values were developed in an environment where men were seen to provide financially for the family. He rarely participated in the domestic duties required to manage a home. For most men their wife or partner accessed social support and health services if needed. Many men still won't see a doctor voluntarily. These are all activities your Dad is now expected to engage in, and he may be associating this with a loss of who he is.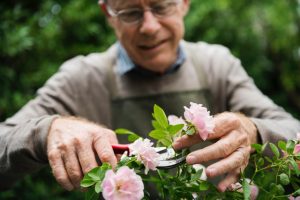 A study published in the Journal of Personality and Social Psychology found self-esteem declines after retirement but people in supporting and satisfying relationships were more likely to cope well with ageing. Once retired, men often lose their social connections which can further impact their sense of who they are. Men from minority cultures can have particular difficulties due to language barriers once a partner or family and friends are no longer around. Ensure your Dad is maintaining hobbies and interests that make him who he is. If mobility or cognitive issues create barriers to doing what he loves, help him reframe the possibilities. The smallest things can make a huge difference in his attitude to his own care and his ability to maintain a positive mindset.
Look for opportunities to reconnect your Dad with his community or to build new friendships through interests, hobbies and groups such as his local Men's Shed. His caregiver can speak with him about what he would like to be doing and create these opportunities in small ways every day.
Plan Ahead
Most importantly, remember this is all new to him, it's overwhelming. He may be grieving the loss of his partner as well as a loss of who he is. Having a caregiver come to his home should be reassuring, not overwhelming. For this reason it is a good idea to plan well ahead of your Dad actually needing a home care nurse. Start with a low level of home care, perhaps transportation or companionship will help him build his confidence. Let him get used to the idea of having a "stranger" in his house and develop a relationship with his care team that will deepen over time. By getting to know your Dad your home care provider can then openly reassess the health and care services needed as time progresses, and increase his level of care without concern.
Nurse Next Door's home care encourages independence. Matched specially for your loved one, they're flexible, supportive, and passionate about helping your Dad or Mum live more comfortably. To arrange a FREE care consult, call 1300 600 247