What is the Difference Between Medical & Non-Medical Home Care?
Understanding the basics of home care services
"Sometimes asking for help is the most meaningful example of self-reliance." – Senator Cory Booker
When you or a loved one needs care, getting your head around what level of care and what services you will need may seem confusing at first. And whilst home care nursing and medical home care can play an integral part of any home care plan it doesn't always have to. 
Home care is first and foremost about creating and managing the best plan to ensure independence, comfort and happiness. This may be only non-medical home care to assist with basic day to day activities, only medical activities provided by a home nurse, or a mix of the two.
So let's break it down.
Firstly, if you're feeling overwhelmed, you're not alone. Statistically, more than 90 percent of older Australians prefer to stay at home as they age, and for those seeking disability support the preference is almost always to access support services in the comfort of your own home, on your own terms. However many people don't understand the services available to them and how this might be funded. So let's take a look at the types of home care available:
Non-Medical Home Care
You may have seen the acronym ADL? This simply stands for Activities of Daily Living and that's what non-medical care is: the services you need to assist you move through your day safely and comfortably. Basically, these services are unlimited – we'll can provide whatever it takes to ensure your independence, comfort and happiness. But to give you some idea, non-medical home care might include:
Showering – if you are at risk of falling due to a lack of mobility or balance it is important to have someone at hand to help you shower and dress. Whilst this may seem like a loss of independence, remember that a fall in the shower is likely to set back your independence on a far grander scale.
Light housekeeping – when you're focused on your health, light housekeeping can become a chore that falls to the wayside. A quick tidy up in the kitchen each morning, or dusting in those hard to reach places can be attended to by a caregiver as part of a home care plan.
Meal preparation – preparing nutritious meals day in and day out is another daily task that can be overlooked when mobility or health challenges arise. As diet plays such an important role in our long-term health, this is an area that you should explore when putting a home care plan together with your Care Designer.
Transportation – getting from A to B – whether that's the local shops, hairdresser, doctor's appointment or catching up with family – is important to your independence and ability to stay involved in your community. So if you need a little help getting around don't be afraid to ask about transportation services as part of your care plan.
Medical Home Care
As you would expect, medical home care is based around nursing services such as wound care, management of medication, injections, continence and catheter management, pain management or even end of life care, whatever your need, full medical care is completely possibly in your own home. Your care team will work closely with your GP, surgeon or specialist as well as any allied health professionals you require to ensure your home care plan incorporates all aspects of medical care required. Remember, your home care nurse, whether they are a Registered Nurse or an Enrolled Nurse, is likely to have had years of experience in hospitals and medical settings – there's not much they haven't seen or attended to.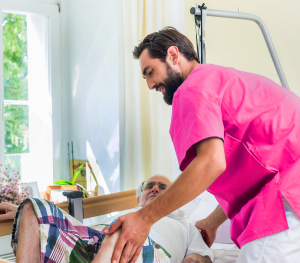 Are non-medical and medical home care covered by Medicare?
In short, no. But this is because, for those who don't wish to pay privately, the Australian Government may provide funds for home care through either the Commonwealth Home Support Programme (CHSP), Home Care Package (HCP) – both of which cover aged care services, or the NDIS (National Disability Insurance Scheme) providing funding for people living with disability. All three programs are based on assessment and funded on a 'needs' basis. You can read more about that here.
Is my home care plan covered by my private health insurance?
Most home care services that could otherwise be provided in a hospital, such as specialist nursing care or even help with cooking and cleaning, are included in hospital cover policies and extras cover can often include services such as home nursing, home rehabilitation and palliative care at home. The cover available will depend very much on your health fund and the level of cover you have so it is best to contact your health insurance provider and talk to them in detail about the home care you are planning or receiving.
Your care designer is responsible for supporting you in all aspects of your home care program. They will be there to organise your health assessments so we can provide the highest care possible for your specific needs.
Additionally, they will coordinate your continuity of care to make sure you have the perfect match caregiver and a consistent home care team. The care designer will strongly advocate on your behalf for all of your health needs so you know someone always has your best interests at heart and will be with you every step.
If you're not sure what care you or your loved one needs visit

Nurse Next Door to learn more or call today on 1300 600 247 for a free , no obligation, care consult.