Our Nurses. Our Future.
"Caring is the essence of nursing." – Jean Watson
International Nurses Day highlights the many ways in which Nurses are making an impact to meet the needs of people and the wider community worldwide.
We sat down with some of our own Nurses this to ask them why Community Nursing has become an integral part of their career, what their most memorable moment has been with a client, and what words of wisdom they can share with aspiring Nurses who are passionate about Making Lives Better™ within their local community.
Here is was our wonderful nurses had to say: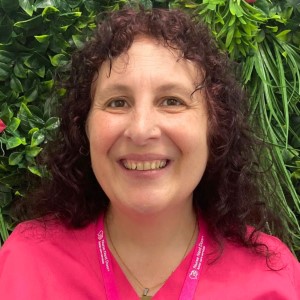 Ronnie (RN)
Care Ambassador
Nurse Next Door Melbourne South East
1. Why did you choose to become a Community Nurse?
I really wanted to have that true one on one interaction with clients, and was the core reason why I chose to become a community nurse.
I now have more time to spend with each client, and really build a strong connection with them and their families. I believe that the combination of people being in their own environment, the comfort and safety of their own home where they can choose to live on their own terms, and having a trusting relationship with their care team is the key to successful recovery.
2. What was your most memorable moment with a client within the community?
I have many memorable moments with my clients and choosing simply one is just too difficult. My memorable moments come in different forms; when a client gives you a hug, smiles, and thanks you, or when they are comfortable telling how they really feel and confide in you, you know you have made a difference, and created a special bond and trust, that is all that matters to me and those moments I truly cherish.
I believe that It's the little things that make the biggest difference.
3. What advice would you give someone who wants to be a Community Nurse?
For anyone who wants to be able to create a bond and spend quality time with their clients on a 1:1 basis, then community nursing is for you.
It is a wonderful experience which will enable you to grow and develop your skills on a deeper level, and become a more confident and autonomous nurse practitioner where your clients are at the heart of everything that you do.
---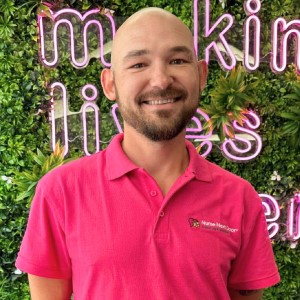 Jonathon (RN)
Managing Director
Nurse Next Door Wagga Wagga
1. Why did you choose to become a Community Nurse?
I have had the privilege to work in a wide variety of clinical settings as a Registered Nurse. However, the continuity of care in the acute setting is limited and I always found myself wondering how the patients I cared for were going after being discharged from the hospital.
Being a community nurse allows me to continue to get to know my clients and build stronger professional relationships with them. What I love about this, is the continuity of care and being able to truly make lives better in my local community.
2. What was your most memorable moment with a client within the community?
There are so many memorable moments! One of the most memorable moments for me was when I was caring for a Palliative care client.
My client was very unwell and unable to communicate. I stayed with her and her family, and made sure that they were all as comfortable as possible. Everyone was so appreciative to have me there, by their side for support. Something I will never forget about that day, is when I was applying moisturiser and massaging my client's hands, she moved her arm and rested her hand on mine, and then she smiled.
This moment was so special and brought tears to my eyes. It made me realise how something that can seem so small to some, means the world to others.
Being able to care for someone, and their family in their last moments is truly rewarding and has a lasting impact for all those involved.
3. What advice would you give someone who wants to be a Community Nurse?
The advice that I would give to anybody interested in a career in Community Nursing is to take the time to get to know your clients and find out what makes them happy.
Even the smallest thing can go such a long way to making someone feel appreciated and valued.
---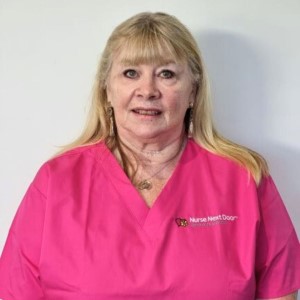 Judy (RN)
Care Ambassador
Nurse Next Door Monash Whitehorse
1. Why did you choose to become a Community Nurse?
I wanted to have more versatility and flexibility around the clients that I cared for. In community nursing, no two days are ever the same and I absolutely love it!
As a Community Nurse, you are continually meeting new people who really appreciate the assistance we provide because we can actually focus and give them the care they need and want on their terms.
2. What was your most memorable moment with a client within the community?
A single moment is really hard to define but there was one in particular that I want to share the joy of caring for a client culminating in a special moment.
At 97 years old, I have a client who still lives in his own unit by himself. He is cognitively very alert with a great sense of humor but, unfortunately his body is starting to fail him & he is now very slow in mobilizing with his frame.
We have a team of carers (including myself) who see him 5 days a week for over 12 hours a day, to help get him out of bed, showered, dressed & provide him with breakfast and medication.
Conversation with this particular client is always lively & he expresses his appreciation often.
The really special moment we had recently was celebrating his 97 birthday and we gifted a bed pole for him! It's amazing how much easier it is for our client to move himself in bed as well as getting up in the morning. A great success!
His family was also very surprised by our generosity & the thought behind the gift. It continues to be a privilege to care for this man knowing that we are helping Make a Difference in his life.
3. What advice would you give someone who wants to be a Community Nurse?
A happy, friendly manner is very important. We may be the only person they speak to all day so you need to be friendly, aware of their interests so you can chat.
Flexibility is important also as the client's needs may change on a daily basis or your roster may change depending on unexpected events.
Remember you are going into a person's home so be respectful of their wishes & way of life. They will not always be the same principles as you & you should not expect them to change.
Be prepared to work by yourself with your clients but you will always have the backup of a supportive management team.
---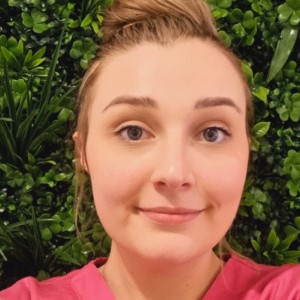 Sam (RN)
Care Designer
Nurse Next Door Canberra
1. Why did you choose to become a Community Nurse?
Being a Community Nurse has always been my goal, even before I started my studies I knew that community was an area of nursing I felt most aligned with when I envisioned my career as a nurse.
Before becoming a Registered Nurse, I worked as an Assistant In Nursing in Aged Care for 7 years and, what I loved most about it was the continuity of care and connections I made with the residents I cared for.
Building therapeutic relationships is a very important part of nursing for me. My job allows me to do this and more. I was thrilled when I was offered a position at Nurse Next Door and each day I feel more certain that I'm exactly where I'm meant to be.
2. What was your most memorable moment with a client within the community?
Even in my short time as a Community Nurse there have been many memorable moments I've shared with clients and coworkers.
A memory that stands out are ones I have shared with a lovely elderly woman who we provided wound care for over many months. If time allowed, once I had completed the wound care, we would sit down with a cup of tea and talk about the latest Bold and the Beautiful episode and reminisce on some lovely memories she has had with her family. She would ensure she kept the biscuit tin full (which was kept in her secret hiding spot) and the tea bags ready in the cups before I arrived.
This is what community represents for me, I love that I have the opportunity and time to really get to know people and their story whilst also providing care my clients need.
3. What advice would you give someone who wants to be a Community Nurse?
Be open minded and adaptable. You'll meet many different people from all walks of life working in the community, and being adaptable to each Individual's unique care needs, circumstances and environments is important.
Being compassionate and open minded towards everyone you meet i believe is essential in providing quality care, it truly makes all the difference.
---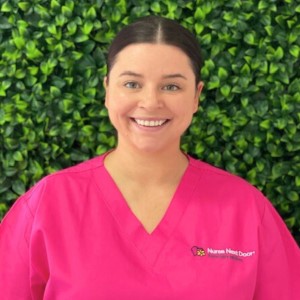 Kelly (RN)
Care Ambassador
Nurse Next Door Melbourne Inner South East
1. Why did you choose to become a Community Nurse?
I chose to take the opportunity to become a Community Nurse so I could give the person I am caring for my undivided attention while I'm with them.
I wanted to be able to provide the quality of person-centered care that I would want my mum to receive if she was being cared for by a nurse. Community Nursing allows me to do this.
I love being able to help people stay at home, with all their creature comforts and loved ones, whilst still receiving the nursing care they need.
2. What was your most memorable moment with a client within the community?
One moment that I will always remember was with a client who lives with Parkinson's Disease that we were visiting four times a day, seven days a week. We were supporting them living back at home after a long stint in hospital. They lived only a block back from the beach but were not able to get there anymore due to the disease effects.
One visit, the timing was right with their Parkinson's medication for their mobility, the Melbourne sun was out, and I was able to take them down to their favourite park bench overlooking the beach. They were so excited to be there, expressing how nostalgic it was for them, even wanting to call their brother who lived overseas to share the moment. I put on their favourite Fleetwood Mac song and we shared in the beautiful view and sea breeze.
I'll never forget that moment.
3. What advice would you give someone who wants to be a Community Nurse?
Go for it! As a nurse you can make a huge difference to the lives of people in your community, in such a wide variety of ways. You will have special moments every day. It's versatile, challenging in the best sense of the word and very rewarding.
---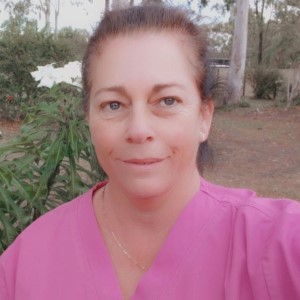 Susan (RN)
Care Designer
Nurse Next Door Caboolture
1. Why did you choose to become a Community Nurse?
Since I was a teenager, I've always had a passion to help people as much as possible, and I have always loved the opportunity to encourage clients and their families with my knowledge and expertise as a Nurse.
When I see that a client understands their ailments and the plan of care, it is an awesome feeling to have brought understanding and peace to them during what can be a confusing or challenging time in their life.
I enjoy building long-term relationships and seeing the people within their own homes, their environment, seeing family photos on the walls and seeing the person for who they are and what experiences and achievements they have had in their lives. I have always preferred this instead of building a short-term rapport over a few days within the clinical hospital setting.
2. What was your most memorable moment with a client within the community?
I have many – But I'll always treasure the time I spent Nursing intellectually handicapped children from Birth to 18-year-olds at Hervey Bay 'Bush Childrens'. Not only did we provide these kids with their everyday care needs, but we always went above & beyond to make their lives happier, it was such a rewarding job.
We had the opportunity to take them out every day and we gave them great experiences such as taking them to the local Ice cream parlour, beach & bush walks, whale watching, theme parks, the aquarium, just to name a few. It was an awesome experience and knowing we have made a difference in these kids' lives, we put smiles on all their little faces.
I absolutely loved that job and I feel it gave me the grounding to what I do today.
3. What advice would you give someone who wants to be a Community Nurse?
Be passionate, always advocate for your patients, be a team player, treat others the way you want to be treated, and be the change you want to see in healthcare. To be a great nurse JUST CARE. Ask questions and identify ways to improve yourself/self-reflection, both personally and professionally.
Think of Community Nursing as Making a Difference in someone's life, giving them the opportunity to live within their own homes for as long as possible, because you're giving them the quality of life they so desire. I absolutely love nursing and can't recommend it enough; I am sure you would love it too – give it a try.
---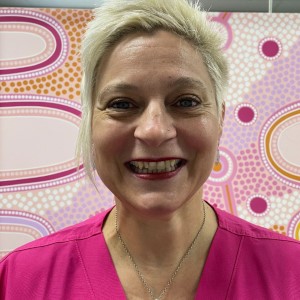 Olivia (RN)
Clinical Lead / Manager
Nurse Next Door Brisbane
1. Why did you choose to become a Community Nurse?
After working in the Emergency Department and acute Pediatric trauma for many years I realised that the only way to effect change in our overloaded health system and actually do some real "good" was to go out into the wild west of Community Nursing.
Community Nursing has long been seen as an "easy" nursing field; however, this is a really outdated view on what we do on a daily basis.
Standing in an assessment bay in the Emergency Department and using my body as a shield to prevent an adult guardian from hitting an adolescent curled in a fetal position on the trolley was a light bulb moment for me!
I knew I needed to work with the extended families, care teams, allied health professionals, counselors etc to put a "pod of care" around vulnerable people so that they never even have to present to an overloaded Emergency Department again. Community Nursing gives me that opportunity.
2. What was your most memorable moment with a client within the community?
In all my years of nursing, and all my interactions with clients and their families, the one that stays forever is a lovely dementia client that needed pressure areas dressed regularly.
Unfortunately this client was immobile, rarely opened his eyes and was no longer verbal but regardless, his wife used to sing to him, and so I did the same when I did his dressings.
When he passed away, the daughter asked me to continue to visit her mother and sit in his old room and sing. Sometimes she would sit with me and sing, other times I could hear her just going about her business in the house.
When she also passed away, her daughter told me how much comfort her mother had received from having a nurse in the house and allowed her to stay in the comfort and safety of her own home until she passed away as well.
It's funny how it's not always the amazing clinical skills that we have as nurses but, it's how we make our clients feel that can really make a difference in their lives.
3. What advice would you give someone who wants to be a Community Nurse?
Community nursing is not for the faint hearted, it is not a walk in the park or the easy/soft option.
Community nursing is where you can practice all the latest nursing techniques and follow the whole journey of the client from start to finish.
Community Nursing is planning your day yet expecting the unexpected.
Community nursing: is battling traffic, managing punctures, realising when you arrive at your third client that you left your favourite pen with the first client of the day, constantly scanning for clean public toilet but, it is also the most rewarding kind of nursing because it allows you to actually spend time with clients, form therapeutic relationships and most importantly of all, we can do all these wonderful things for them in their own homes on their own terms.
---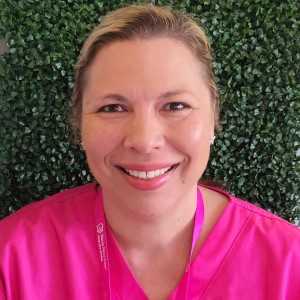 Emily (RN)
Care Designer
Nurse Next Door Brisbane North West
1. Why did you choose to become a Community Nurse?
I chose to become a Community Nurse because I've always wanted to care for people, and being able to look after people in their own homes, on their own terms is an absolute privilege for me.
Everyday is unique and it's exciting to be part of my client's life, caring for them where they are most comfortable – at home.
2. What was your most memorable moment with a client within the community?
I have so many memorable moments with my clients and I find that I can make the most impact through the little things that are often overlooked by care priorities.
I truly believe that Love is in the Details and doing simple things like building a plan together to have something special to look forward to can really make a difference. Whether it's a picnic in the park or heading out to the beach, it's the small things and seeing my clients' smiles that have really stayed with me; I cherish those moments.
3. What advice would you give someone who wants to be a Community Nurse?
Be prepared to think laterally, be prepared to embrace diversity and enjoy the moments where you make a difference in your community.
---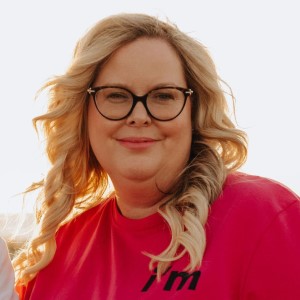 Sarah (RN)
Managing Director
Nurse Next Door Perth North
1. Why did you choose to become a Community Nurse?
I have worked in many different areas of healthcare throughout my career including varied stints
in Community Nursing.
What I love most about the opportunity to work in the community is the privilege that is afforded to us as nurses to enter into someone's home and be with them in a very vulnerable state. We not only have the opportunity to provide clinical care and support to our clients but also work as a teacher and mentor.
There is no other relationship or unique bond that is formed than that in the community. Working autonomously and independently means that you have to think on your feet and provide solutions that are tangible. When I enter a client's home nothing beats the smile that I am greeted with and the offer of tea and sometimes a hug!
2. What was your most memorable moment with a client within the community?
I worked on a project through the Department of Health which involved working with Mums and
babies in the community who were suffering from Perinatal Mental Health Issues.
It was an emotionally challenging role that required me to think outside the box. This was often
challenging when there was risk or danger to a baby/child and working with families who often
are unsupported, adjusting to the many changes that parenthood brings and sleep deprived!
I worked with one particular family for a long time (over a year) and her severe post natal
depression and anxiety meant that she was frequently separated from her baby (due to
hospitalisations) and struggled with the most basic of self care tasks. When she was discharged
from the hospital I would see her x2 weekly in the community and support her emotional health
and assist with building her connection and relationship with her baby.
When I initially started visiting, her little baby would smile and reach out her arms to hug me – excited to see someone else. I knew this was really difficult for Mum to see and contributed to her guilt around her own bond and connection with her daughter. But gradually over time as we worked on Mum's self care and mental health she started being able to connect with her little baby and use small pockets of time to connect through play. Although these changes took place over a long period of time I felt really privileged to watch this connection and bond grow.
Tears turned to smiles and laughter and that's when I knew my job was done.
3. What advice would you give someone who wants to be a Community Nurse?
Do it! No two days are the same and you may experience a whole rainbow of emotions in one
day.
You get to stop and truly connect with people and build relationships not focus on ticking off
taks. You get to help people stay in their own homes longer and help prevent frequent
hospitalisations.
Make sure you are supported by colleagues and you work for an organisation
that values ongoing professional development and training.
---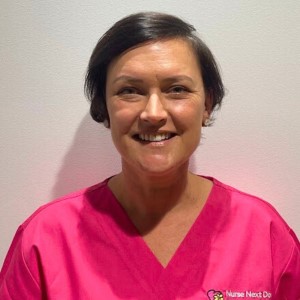 Jessica (RN)
Care Designer
Nurse Next Door Newcastle
1. Why did you choose to become a Community Nurse?
I found myself headed in this totally new direction (for me) due to a combination of worldly and personal circumstances, and then when I encountered the Nurse Next Door core values and model of care, I was completely blown away – the deal was sealed.
It was like someone had combined all the good and satisfying bits of my previous jobs together into one beautiful, pink, care-giving package. Time with clients, actual client-based care, problem solving, the chance to 'go above and beyond', training caregivers, professional development, designing care for the individual person based on what's important to them, teams built around the client and their needs, being part of a team that acknowledges and supports each other.
I loved it straight away.
2. What was your most memorable moment with a client within the community?
Although I have just started my journey in my local community, I have already had so many memorable moments and could not pick just one so here are a few of my favourite moments; supporting a lovely client to pick out some gorgeous shoes on her first shopping trip in more than three years, popping into visit a client while they were in hospital and taking them their favourite meal, meeting a terminally ill, retired nurse in a caring consult and connecting over what it means to be a nurse, and seeing a stroke-impaired client improve so much that they were able to hit a tennis ball – fairly accurately – from their wheelchair.
It's those small moments of kindness, the contribution to my community, and connections I make that really give me purpose in my career.
3. What advice would you give someone who wants to be a Community Nurse?
Be prepared to think outside the box!
Community Nursing is fun, rewarding and if 'Making a Difference' is what gets you up in the morning, there are daily opportunities to do that for clients in the community.
At Nurse Next Door, we are passionate about Making Lives Better™.

If your are looking at Caregiving as a Career™ click here to learn more and see what opporunitites are available in your local area.

If you require care in your own home, on your own terms, contact us 24/7 on 1300 600 247 to discuss how Nurse Next Door can help you keep doing what you love.