Six important roles of the older family member
"What children need most are the essentials that grandparents provide in abundance.  They give unconditional love, kindness, patience, humor, comfort, lessons in life. And, most importantly, cookies."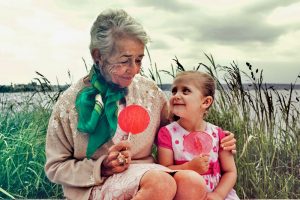 The fact that people live longer than ever before, and that we have an ageing population, should be something to celebrate. After all, the alternative to living longer is not great. However, much of the talk in the media centres around the burden of our ageing population, and the negative changes that we face as we age.
At Nurse Next Door we celebrate families and value the different roles each member of the family plays. Of course, it is not surprising that we focus on the contributions of older members of the family, and how important it is to continue to make them an integral part of family life.
More and more older Australians are choosing home care services in order to age at home and continue playing their vital role in the family well into their 80's and beyond – carer, teacher, mentor, hero, friend and guide, not just to their grandchildren but to their own adult children, their extended family and their community:
1. A Different Point Of View
Businesses worldwide are recognising and embracing the importance of intergenerational diversity, setting up programs to bring older employees or even retired and past employees back into the fold to offer a different perspective and challenge more youthful opinions. We often think of diversity only in cultural terms yet intergenerational diversity offers similar rewards and results for those involved. Our parents, grandparents and older relative's knowledge can help us understand the evolution of an idea across time and bring a greater depth to seeing why we are where we are today.
2. Reflecting Society
Encouraging your children, especially as they grow into young adults, to spend time with older relatives exposes them to people with different backgrounds, people who have likely grown up with different values and lets them experience a  broader cross-section of society, preparing them for when they leave home. For all of us, spending time with a grandparent or elderly friend or relative allows us to reflect on our own values and judge our behaviour by different standards rather than those of our immediate peers.
3. Helping with Care
In 2018 alone Australian grandparents provided an estimated 58 hours of free home care per week, not only helping their daughter or son return to work but also providing a safe loving environment for the grandchild and easing the cost of care for the family. But even if you're the primary carer at home with your children, let's face it, today's parents are run off their feet and the demands of parenting today can put a great deal of pressure on the time left for fun.  Enter grandma! Older relatives often have more time to simply play with younger members of the family and will often bring a sense of adventure or fun to games and outings that can otherwise get lost in the organisational details. Grandparents take the pressure of the primary carer and provide an opportunity to share not just the love, but the never-ending demands of parenting.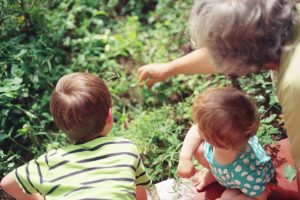 4. Tips and Tricks
Parenting is both a skill that we learn on the job and a skill that we never fully master. Every year brings new changes and developmental milestones and every child is different. There is no book that can teach you everything you need to know. Turning to grandparents, aunties, uncles, older cousins or family friends provides the opportunity for wisdom, assistance and support both emotional and physical. This can be a balance of asking for assistance without constantly being told how to parent better, and requires patience by both parties to find the right mix of guidance and support. But with clear communication, the advice an older relative can provide from their own first-hand experience can be a relief at times we just don't have an answer.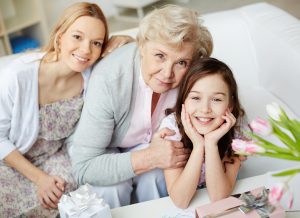 5. Needing a Hero
Older members of our family have often lived through wars or seen harder times and be a source of inspiration for younger family members. Their stories of adversity, or simply of navigating life over a long time, help children to realise that life can be navigated through determination and hard work. Just as importantly an older family member can often provide the role of mentor, encouraging and inspiring a younger child to chase their dreams. At times when a parent-child relationship is challenging, a grandparent can become an extension of the unconditional love provided by family.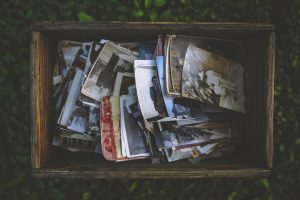 6. Never too old
On the flip side, one of the best things you can offer an elderly parent or loved one is the opportunity to remain socially active and to remain connected to family and friends. Talking and interacting with people keeps the brain active which in turn has been shown to slow down the onset of cognitive decline. Indeed, exercise and social engagement are, at present, the only known factors in preventing dementia.
Research shows that older people ageing at home are more likely to remain connected to community, friends and social groups. Even when age may restrict mobility, carers can provide options to ensure a parent or older relative can still visit family, take a trip to the shop, participate in strength or exercise groups, catch up with friends or just enjoy a day outside.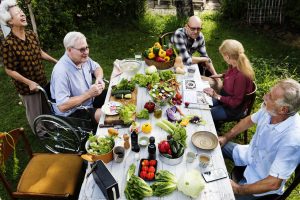 Older members of a family bring wisdom, calm, dependability and unconditional love that frame the views of the broader family and shape the future of younger generations. And whilst more and more Australians in their 60's, 70's and beyond are choosing to remain in the workforce in one capacity or another, the contribution of older Australians to society cannot be denied. Whether volunteering in hospitals, libraries or schools; providing care for grandchildren so their own children can return to the workforce, or simply teaching and mentoring younger family members and filling them with a sense of fun and adventure, it is important to recognise the valuable contribution and vital role older members of our family play in our immediate family and the broader community.
And remember, one day, hopefully, you will be the "older" family member, even if you still feel like a 20-year-old. Embracing the strengths and values of older age bodes well for all of us!
Learn more about how Nurse Next Door can support Mum or Dad to age happily in their own home, on their own terms.