Bronwen's Happier Ageing Dream
"You are never too old to set another goal or dream a new dream"   C.S. Lewis
When Bronwen took to the skies with Nurse Next Door and Global Ballooning on Good Friday this year it really was a great reminder that we must never stop chasing our dreams, and never see age as a barrier to doing what we love.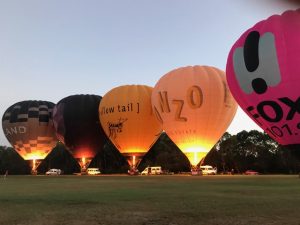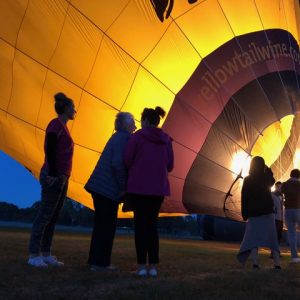 Great excitement as Amber, Bronwen and Sacha watch the balloon inflate!
Bronwen's ballooning adventure began when she entered our 'Happier Ageing Dreams Project' earlier in the year. An initiative set up by Nurse Next Door Australia to grant the dreams of older Australians and prove that life continues to hold possibilities regardless of age, the 'Happier Ageing Dreams Project' attracted a great deal of attention with some pretty extravagant dreams, but it was Bronwen's dream that caught our attention.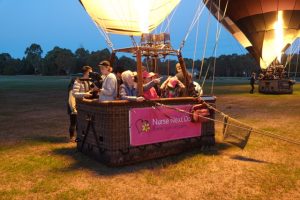 Getting ready to take off!
Entering the project, Bronwen's dream was as clear as it was simple: to see her home town from the vantage point of a hot air balloon. An avid traveller, Bronwen told us she had seen a lot of what the world has to offer but every time a hot air balloon flew over her house she grew a little more envious of those lucky enough to be up there, seeing Melbourne from the peace and quiet of the basket. For years Bronwen watched the hot air balloons glide silently by and continued to dream of her chance to join them. Not wanting to have the experience on her own, she approached friends and even grandchildren to join her but, as no one else shared the same interest, she continued to put the dream to one side, pursuing other travel goals instead.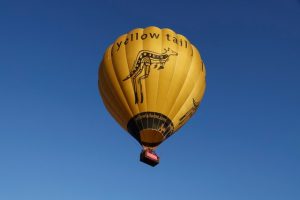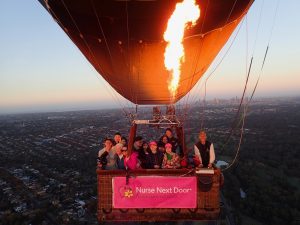 However, as we talked to Bronwen the day she entered the Happier Ageing Dreams Project, we were struck by her determination never to give up on her dream. Whilst others entered with dreams that were fantastic, Bronwen's was inspirational. She didn't hesitate for a second when the question was put to her: "what would you love to do" and her eyes sparkled at the thought of something seemingly so simple, to see where she lives from a different viewpoint.
The underlying theory of the 'Happier Ageing Dreams Project' is to promote happiness through a positive mindset and the belief that possibilities continue to exist as we age. Happiness, as scientists have now discovered, is not just determined by genetics, environment, or luck. In fact, 40% of our happiness lies completely in our hands. Whatever stage of life you're at it's never "too late", nor are you "too old" to find happiness. All you have to do is shift your perspective and see things from a different viewpoint. Just as Bronwen wanted to.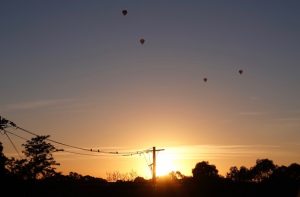 A stunning Melbourne sunrise
And so, at sunrise on Good Friday, Bronwen's dream came true. Nurse Next Door Melbourne's co-founder Sacha Biesse arrived on her doorstep at 5am and joined Bronwen for the ride of her life. From the joy in her eyes as the balloon was fired up, the waves, smiles and hugs received throughout the morning, to being lifted out of the balloon by pilot Kiff, and as her feet touched the ground and she took Sacha's arm, the glow that radiated from her was priceless. Bronwen's morning finished off with breakfast with Sacha & Amber, enthusiastically discussing the flight and making plans for the next activity!  As the morning came to an end, not only had Bronwen had the most wonderful adventure, she had someone to share the experience with, and it was apparent that both elements had resulted in a very special outing for a very special lady.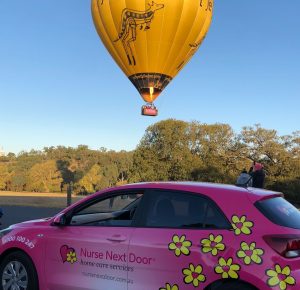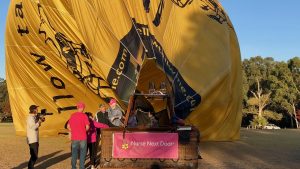 For Nurse Next Door, making Bronwen's dream come true was the opportunity to provide an experience that is at the heart of our concept of happier ageing, the belief that you are never "too old" to continue to pursue things that bring you joy. It was a reminder of how important it is to challenge the misconceptions around ageing and the idea that, at some self-determined point, we are "too old" to chase our dreams, or have a sense of adventure. After all, what is 'old'? 25 is old to a child, 50 is old to a teenager, whilst 75 is young to a 90 year old. No matter how big or small, dreams are so important, they're what gets us out of bed in the morning, what brings us happiness when things are tough, what reminds us of the possibilities available to us at any age.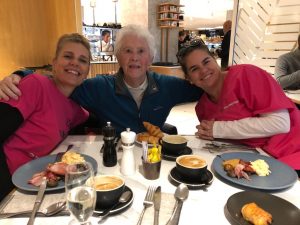 Amber, Bronwen and Sacha enjoying breakfast at the Pullman Hotel after ballooning!
There is no question that ageing comes with its share of challenges.
Yet as you age, we encourage you to be brave and fight the temptation to fade from life. You're never too old to chase your dreams and those later years are the perfect time to do just that. Even if you need a little help or simply someone to share the experience with, this is what the team at Nurse Next Door do, day in day out for all our wonderful clients, helping to make their lives better.
Remember, the sky's the limit when it comes to dreams (and we highly recommend you add a balloon ride to your list!)  What did you used to love doing that you no longer do anymore?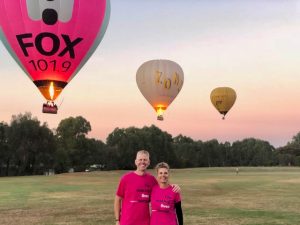 Matt Fitton and Amber Biesse – Nurse Next Door Australia
Would you like to see more ?

To learn more about Happier Ageing or to download our FREE report "The Power of Happier Ageing – Proven ways to enhance your wellbeing as you age" please click here.

If you have any questions please contact us on 1300 010 247 to speak to one of our Nurse Next Door team