Happier Ageing – At Any Age
How Australians, Regardless of Age or Ability, Live Life To The Fullest
"Ageing is an extraordinary process where you become the person you always should have been" David Bowie
Each year, on January 26th, Australia celebrates these ideals with us. The Australian of the Year awards raise up every day Australians, people who are making a difference in their own community, people who are seizing opportunities and living their life to the fullest. We think it's only fitting to take a look at just a few of this year's list of Australians who are achieving amazing things and reminding us all to celebrate life, at every age.
At Nurse Next Door our core purpose is Making Lives Better. Simple, and to the point. A purpose designed to help all our home care clients seize their own opportunities and live their own best life, regardless of age or ability.
Cam Ngyuen – Victorian State Recipient Senior Australian of the Year 2021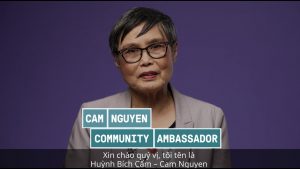 For some, 80 looms as an age where they plan to "slow down". Not so for this octogenarian. Ms Ngyuen continues to work full time as both CEO and honorary secretary of the Australian Vietnamese Women's Association (AVWA). She oversees 3 offices, 200 staff, and volunteers. With first hand experience of what it feels like to be displaced from 'home' and everything that is familiar and comfortable, Ms Ngyuen formed the organisation in 1983. Since then she has dedicated her life to helping refugees find their way and feel "valued and empowered".
We talk a lot about how much a sense of purpose contributes to the idea of Happier Ageing. The ability to remain a part of your community, whether that's helping others or simply staying in touch with friends, plays a strong part in helping you remain who you are. Congratulations to Ms Ngyuen. An amazing contribution to Australia and a great reminder to all of us that age is just a number.
Daniel & William Clarke – Queensland State Recipients Young Australian of the Year 2021
These young brothers have already done more than many of us could imagine achieving in our lives. Sharing their passion for a better world since the age of on eight and ten years old, Daniel and William have raised nearly $1 million in their determination to save the Orangutan in Borneo and  Sumatra. Cerebral palsy has been no barrier for Daniel who along with his younger brother William has continued to set goals and strive for what he believes in.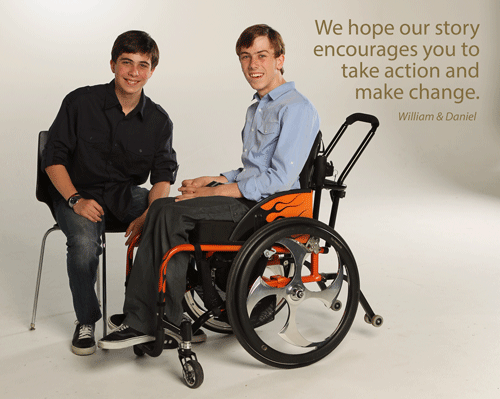 As David and William note, taking action is important when we want to see change. Even the smallest steps can add up to enormous change. The importance of goal setting is not lost on us here at Nurse Next Door. We're in awe of our amazing clients who often have a fierce determination to remain happy and independent in their own home. Congratulations to David and William on their achievements. No doubt there are great things ahead for them in 2021 and beyond.
Edna Pennicott – Tasmanian State Recipient Local Hero 2021
Local heroes are definitely our speciality. We find inspiration in people like Edna who has dedicated over 40 years to the most vulnerable members of her community.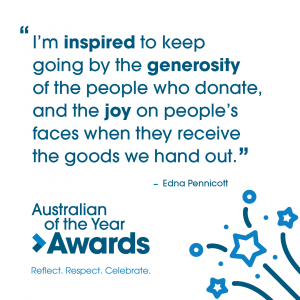 Delivering essential items to people in her community who are experiencing hardship, Edna, through her organisation Kingborough Helping Hands (KHH) collects and personally delivers relief packages and hampers to families in need. She also supports local women's shelters and runs an after-hours mobile service to feed and support people who are sleeping rough.
Doing What You Love
Having a sense of purpose, finding inspiration and doing what we love gives us the drive to move forward each day. Finding what inspires you helps focus your energy on where it really matters. Exploring the idea of being mortal is confronting. No one likes to think of themselves as "mortal". But think about it like this. If someone told you you have twenty years to live you might be upset, but you may not change your habits or routines. There's plenty of time to achieve what you hope to achieve. What about 10 years? Still plenty of time? 2 years? So now ask yourself, what if you only had 2 days to live, what would matter? Not what would you do, but what would matter? It is not time that impacts our happiness – time simply clarifies for us what matters.
At Nurse Next Door we're surrounded by happier ageing. We are inspired by our incredible family of caregivers who strive to make lives better every day. Likewise, we are inspired by our clients who remind us what can be achieved when you set your mind to it.
Congratulations to all the state and local recipients of this year's Australian of the Year awards. And to every Australian, regardless of age or ability, we hope these stories of every day people doing extraordinary things is a reminder that we can all achieve happiness. After all, we all deserve to live our very best life, to the very end.
At Nurse Next Door, we are passionate about Making Lives Better. If you want to celebrate ageing click here to learn more about The Power of Happier Ageing or contact us today on 1300 600 247 to discuss how Nurse Next Door can help you keep doing what you love.