What does happiness in home care look like?
Why Nurse Next Door Is Helping Clients Celebrate Ageing
"Simply put, Happier Ageing is doing what you love to do, when you want to do it, regardless of age or disability."
Changing The Perceptions Of Ageing
At Nurse Next Door we want to change the perceptions surrounding ageing. We believe that getting older doesn't have to feel helpless. Instead, we believe ageing is worth celebrating.
A lot of people ask us what we mean when we talk about Happier Ageing. In a nutshell, it's our philosophy of care that underpins all we do to make lives better in home care. It's about going beyond the day to day tasks of basic home care to not only keep you safe in your home, but to keep you happy. To maintain a level of independence that gives you choices in what you do. It's about ensuring you live your best life, to the very end.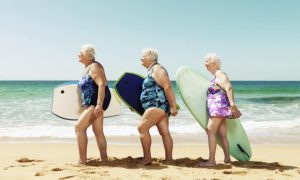 The 5 Pillars of Happier Ageing
So where does Happier Ageing come from? Atul Gawande's book Being Mortal holds the answer. It's why it's a key book in our core library. In Being Mortal, Gawande captures the principles of Happier Ageing. Rooted in positive psychology, the study of well being, these principles are:
Choice: Choice suggests the opportunity or privilege of choosing freely (freedom of choice). The choices we make determine where we spend our time and energy, how we show up and what legacy we leave behind. We are empowered when we believe we have choice.
Belonging: American psychologist Abraham Maslow included Belonging as a human need in his hierarchy of needs. Studies by Maslow and other psychologists have found that all human beings need a minimum quantity of regular, meaningful social interactions. Without these, we can experience loneliness and mental distress.
Respect: Abraham Maslow also included Respect as a human need in his hierarchy. Respect is both an emotion and an action. It's a positive feeling towards someone or something we consider to be important. As an action, it's how we honour someone by showing care, concern or consideration for their needs or feelings. Healthy respect, for oneself and others leads to higher levels of well-being, happiness and health. This means a greater quality of life.
Autonomy : The philosopher Immanuel Kant defined autonomy as the right for one to make their own decisions without influence or interference from others. With autonomy, we are the author of our own destiny, even if the sphere for exercising that autonomy might be diminished through ageing or illness.
Purpose: Ikigai (pronounced Ick-ee-guy) is a Japanese concept that means "a reason for being." The word "ikigai" is often used to point to the source of value in one's life and the things that make our lives worthwhile. This is purpose. Our purpose is personal and specific to our life experience, values and beliefs. Activities that allow us to feel a sense of purpose are often spontaneous, and always undertaken willingly, resulting in satisfaction and a sense of meaning to life.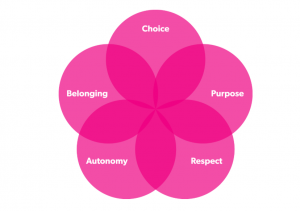 The five principles of Happier Ageing are simple and powerful. By cultivating them, you become empowered to experience happiness. You have the tools to set yourself goals and challenges, and the confidence to pursue them.
Intentional Happiness
Happier Ageing benefits everyone but for our clients, the benefits cannot be understated. When a home care plan is built around happiness, the client is provided with choice and a sense of fulfilment. The home care plan is designed with the specific purpose of positively impacting the client's well-being, building confidence, providing mental stimulation, and encouraging connectedness.
While the mental benefits are clear, the spin off effect on a client's physical health is also very real. Positive psychologists have shown that health and happiness go hand-in-hand. Human strengths and virtues have the ability to act as buffers against illness. Improved heart health, enhanced immune system, reduced disease and disability and even the alleviation of pain. Happier Ageing can have a protective effect on health.
The impact doesn't stop at the client. Daughters and sons experience peace of mind knowing Nurse Next Door's Caregivers are finding ways to improve their parent's safety and well-being. Happier Ageing even impacts the caregiver, allowing them to meet the unique needs of each client and truly see the difference they make in each client's life.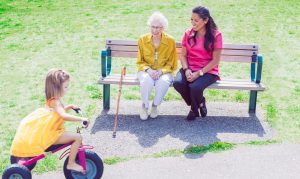 Happier Ageing is about positivity. It's about how we all think about, and live our lives. It doesn't mean our clients won't have their challenges. However, no matter the level of care, it's about helping our clients take time every day to create intentional moments of happiness, to continue building memories and ensuring they are not simply surviving, but are thriving and flourishing.
Learn more about how

Nurse Next Door

can support you in being mortal and living your best life, on your terms.