What's Life Like With A Feeding Tube?
How one home care client manages life with a feeding tube
"Tube feeding is simply another way of eating, and for some people, it is because of tube feeding that they are still alive."

This week, in support of ausEE Inc., the National charity for eosinophilic gastrointestinal disorders, and Australia's Feeding Tube Awareness Week, we're raising awareness about life with a PEG (Percutaneous Endoscopic Gastrostomy tube) most often referred to as a feeding tube. At Nurse Next Door several of our clients require a feeding tube and – Helen, an award-winning teddy bear maker and master quilter – was happy to share her story, and her life with a feeding tube, answering some of the questions people ask us about PEG feeding and care at home:
Maintaining optimal health
There are many reasons why people (both adults and children) require a feeding tube. For Helen, dysphagia, or difficulty swallowing, meant a feeding tube was the best way to help manage her nutritional needs to maintain her optimal health.
Dysphagia may follow a traumatic brain injury, stroke, or a neurological disease such as dementia and Parkinson's. Feeding tubes are also used to combat Eosinophilic Oesophagitis (EoE) – a disease in which the oesophagus is inflamed, often due to food allergies, which can result in low or unhealthy weight gain, vomiting and reflux-like symptoms. 
The short version? Anyone experiencing difficulty swallowing or consuming food, to the point that their health is impacted, might be diagnosed as needing a feeding tube. A feeding tube can make all the difference in maintaining their basic nutritional needs.
An Independent Life
Many client's families ask us how a feeding tube will impact their loved one's life. For Helen, the feeding tube has meant she can fulfil her greatest wish, to remain independent, in her own home, surrounded by her favourite teddies.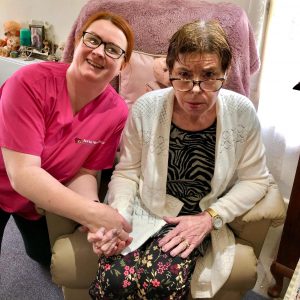 Before her gastronomy tube, Helen's dysphagia was creating concerns around her nutritional intake and weight loss.  She managed her PEG tube at home for some time until there were some complications which lead to hospital admission and potential extended stay to receive 24/7 nursing care.  At this time with a strong desire to return home and live independently, she and her family engaged the help of the Nurse Next Door care team. to manage her PEG tube, stoma site, medications and feeds at home. Helen continues to complete two of her feeds herself whilst her care team are now on hand every day for the other three feeds, providing assistance with medication administration, and stoma care as well.
Most importantly, the feeding tube is playing a key part in Helen's independence. Knowing that her nutritional requirements are properly managed gives both Helen and her family the peace of mind that she has the energy to do the things she really loves doing – like gardening, shopping, enjoying her regular exercise routine and taking trips with her family. Her caregivers often join her on walks and take her out to get her nails done. All of which she can do on her own time.
Breakfast, Lunch & Dinner
As with all home care clients, tube feeding doesn't impact the time of day you can eat. Helen takes all her nutrition via a feeding tube – five PEG feeds per day, as well as her vital medication. Like anyone, she enjoys breakfast, morning tea, lunch, afternoon tea and dinner and she decides what times her feeds are to suit her personal preferences and routines. 
In terms of what she's consuming, and keep in mind it will be different for everyone, Helen and her care team decided on Fortisip – a ready-to-drink, high energy, high protein, vitamin and mineral-rich oral supplement that contains 300kcal and 18g protein per 125ml bottle. Basically, a nutritional supplement designed for high impact in a small volume.  
She then supplements her tube feeds with foods that are easy to consume and allow her to enjoy the flavours, tastes and sensations of eating. Helen's favourite is chocolate mousse. Her carers help her to prepare, cook and blend her food for the week and accompany her to her weekly grocery shop. Having oral feeds when you have a PEG  is not uncommon, but of course, as with all people requiring a feeding tube, any food Helen takes orally is done so with medical approval, to ensure her health is a priority at all times. 
An Individual Choice
We're often asked if a feeding tube is the right answer and our response is: this is something each of our clients will decide with input and advice from their healthcare team.
Feeding tubes certainly provide an important role for any person who cannot eat however they are not always the right answer for every person. There will be questions such as whether a feeding tube is going to be a permanent or temporary requirement- statistics suggested 40% of people required feeding tubes for two or more years while 11% required a feeding tube for five or more years – and how it impacts each client's quality of life. Management needs to be considered – anyone with a feeding tube will have a care team to assist them with what our clients refer to as "tube maintenance".
For Helen and her family, the choice has made all the difference in her ability to live independently at home. She and her care team have a plan in place should she need hospital attention but with the management of her nutrition and her other care needs in hand, Helen is happy at home, surrounded by family, friends, and of course, all those teddies.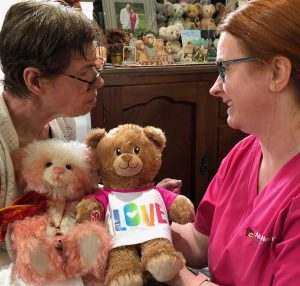 Feeding Tube Awareness Week (FTAW) is an important week for ausEE to raise awareness for those living with feeding tubes and the day to day challenges they face. Most importantly, it's a reminder that tube feeding is simply another way of eating, and for some people, it is because of tube feeding that they are still alive.
If you want to know more, or simply support ausEE, you will find support groups and resources available on the Feeding Tube Awareness Week website: www.feedingtubeaware.com.au.
If you need assistance caring for someone with a feeding tube you can contact

Nurse Next Door

on

1300 600 247

for an obligation free Caring Consult.