Home Care Services in Melbourne Inner North West
Nurse Next Door provides home care that's Making Lives Better, in your own home, on your own terms, for aged care and disability support

Live 24/7 Scheduling Support Team

Qualified and Insured Caregivers

Registered Nurses and Enrolled Nurses

No Lock-in Contracts
Nurse Next Door Services
It's about caring, not just health care. That's why we're here to help get you back to doing the things you love. Whether it's a little help around the house with meal preparation or medication reminders, let us do the caring.
Live 24/7 Scheduling Support
With fast, easy access, we're always just a phone call away.
Qualified & Insured Caregivers
Find the perfect match. All in home caregivers are kind, trained and insured.
Learn more.
Dementia & Alzheimer's Care
Get total peace of mind with caregivers experienced in accommodating age-related challenges.
Learn more.
Continuity of Care
You'll always be covered by a familiar caregiver, even with a tricky schedule.
Learn more.
Full-Spectrum Home Care
Our caregivers provide housekeeping, cooking and grooming to transportation and medical care.
NDIS Disability Care
We support clients to maintain their independence in their own home, on their own terms. From assistance with daily life activities to social and community participation, our experienced team offer a personalised tailored plan to match the unique needs of each individual.
Learn more.
Care Management
We manage every step, including planning and monitoring physical and emotional health.
Learn more.
No Long-term Contracts
You should never feel 'stuck'. Short-term or long-term, all home care assistance is flexible.
We're Local!
Our Nurse Next Door office in Melbourne Inner North West is available to help 24/7.
Some of the communities we serve:
Coburg
Pascoe Vale
Essendon
Strathmore
Avondale Heights
Keilor East
Tullamarine
Gladstone Park
Airport West
Glenroy
Fawkner
To see other communities served by neighbouring branches, please click here.
It's as Simple as 1, 2, 3!
1
Contact Us

Call us anytime to book a FREE Caring Consult. Service can start in as little as 48 hours.

2
Free Caring Consult

Our Care Designer comes to you. We assess your needs and answer any questions you have.

Learning about you allows us to send a perfect match Caregiver.

3
First Visit

You'll always be covered by a familiar Caregiver — selected for you to match your needs and personality. We ensure your Caregiver is someone you can trust.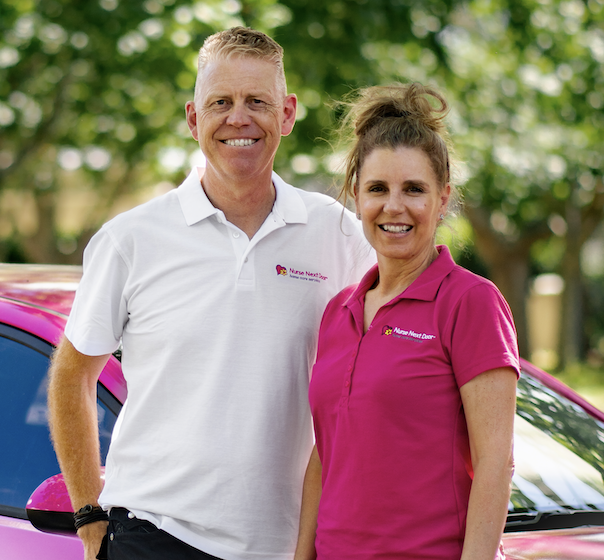 Amber Biesse & Matt Fitton
Nurse Next Door Melbourne Inner North West
Our Story
Making Lives Better
Nurse Next Door Melbourne Inner North proudly services the City of Moreland, providing compassionate 24 hour home care services for aged care and disability support.
Our team of qualified caregivers and registered nurses provide a flexible range of home care services available 24 hours a day, 7 days a week, delivering peace of mind and the knowledge that you can stay at home. It's not just about preparing a meal or providing a nursing service – anyone can do that. Your local Nurse Next Door team offer a truly unique experience dedicated to getting clients back to doing what they love. And while there are many things that distinguish the Nurse Next Door Melbourne Inner North team, we pride ourselves on our commitment to provide WOW customer experiences and strive to make lives better.
Our Talent is Caring
...Read more
Read less
What People Say About Us
"Incredible professionalism, courteous and respectful. I feel that my Dad is genuinely supported in improving his quality of life and his desire to be in his own home. I too feel the support that I need living so far away. The Nurse Next Door team truly "gets" what we are both needing, I am truly grateful."
"From the lady that answers the phone saying how I can make your day better, to the service that was given by Melinda when she was here showering my mum was top notch, thank you!"
Louise
(Client's Daughter)
"Very understanding. Professional and responsive service. Qualified staff who are genuine and skilled are matched to clients according to their profile needs.Care Service is always available to take calls and offer advice after hours. Our team of support staff who visit our home have shared their knowledge and experience. They are calming, respectful and understanding of their client's needs. Nurse Next Door tries hard to have a "team" so that staff are familiar with mum and her needs and mum is able to build a rapport. It is particularly challenging for staff given mum has lost her English and converses in Greek. However the staff are not phased, using a translation app to.assist them and also using their iphone to play Greek music for mum. They are always punctual and cannot fault their work ethic. Mum has built a rapport and I could not do without this wonderful help. Also a special mention to the.admin staff for their service and communication. They always return my calls in a timely fashion and get back to me asap with shift changes and ad hoc requests."
"The care and hence the quality of the service is all about the nurse provided. I'm not sure if we have been "lucky" but all the nurses provided have been excellent. I've been around a while and can tell very quickly if people's care and attention is genuine or not. The nurses provided to look after my wife have been fantastic. Thank you."
"As a young person, it was difficult for me to find reliable in-home nursing to administer injections after I broke my foot. A lot of the services in my area exclusively helped older people, or were unable to offer the services I needed without one week notice. Nurse Next Door listened, and found a way to offer me the services I needed to help me to recover. The kindness and expert advice from my care planner and all of the nursing staff has helped me tremendously on my journey to recovery, and I would recommend this service to anybody who needs a little extra help with short notice! Thank you Nurse Next Door!"
"Your nursing staff goes above and beyond! They are very professional and are bringing back caring into nursing.I can not thank them enough for the care that they have provided my client."
"Nurse Next Door have been a fabulous service for myself. My independence and confidence has increased and that would not have been possible without the support of Nurse Next Door. Thank you. It is very much appreciated. "
Frequently Asked Questions
Why should I use Nurse Next Door instead of hiring a private caregiver?
Finding the right kind of senior home care can be difficult but at Nurse Next Door we make sure you know exactly what you will be receiving with our services. Here are some of the questions you should consider prior to making that decision:
What kind of background and screening checks can you do on your own for a caregiver?
All Nurse Next Door Caregivers are carefully screened with police checks and, if applicable, Working with Children and Disability Screening Checks. We confirm our Caregivers' educational credentials and verify upon hire and annually, that every nurse is registered and in good standing with AHPRA. If you hire a caregiver privately, you will need to perform background checks and screening yourself.
If my caregiver is unavailable, who will fill in?
At Nurse Next Door, we ensure there is a replacement when one of our Caregivers becomes unavailable. We believe in continuity of care and will contact you to inform you of a Caregiver change. If you hire a caregiver privately, it may be difficult to find a replacement caregiver depending on how much notice is given.
Will I have the same Caregiver or Nurse all the time?
At Nurse Next Door, we strive for consistency of care and provide regularly assigned Caregivers. Our goal is to find the perfect match between our clients and Caregivers based on their needs, hobbies, and interests. Caregiver consistency is essential to building strong relationships, and delivering on our philosophy of Happier Ageing.
Are your home care services only for older people?
No, we provide home health care services to the entire age spectrum – from newborn babies to people in the later stages of life. We can also provide assistance with special needs care for children and adults with disabilities, as well as post-operative care, health checks, and other services for any age.
Do you provide services for people on the NDIS?
Yes, Nurse Next Door provides services for people on the NDIS, ranging from simple caregiving duties to working with participants requiring High Intensity supports and complex nursing needs. We work with Support Coordinators and directly with participants to ensure care needs are met.
Can I just try our Nurse Next Door or do I have to sign a long-term contract?
You are not locked into a long-term contract. You may cancel care from us at anytime — we just need a minimum of 24 hours notice to cancel services without any cost.
To try out Nurse Next Door, just contact us to book a complimentary, no-obligation Caring Consult™. We believe in making things easy for you. One of our Care Designers will visit your home to assess your needs and design a care plan with you, which will including frequency and duration of care.
What if I need to speak to someone after business hours?
Our Care Services Center is open around the clock – 24 hours a day, 7 days a week. You can call at any time and one of our Care Services Specialists will be happy to assist you.
How much does Nurse Next Door cost?
Nurse Next Door offers both caregiving and nursing services and prices vary depending on the time and day of the week. To get a better idea of price, speak to one of our Care Services Specialists — we're open any time 24/7.
We also offer a complimentary Caring Consult™, where one of our Care Designers will help you determine the amount of care you may require. We'll work with you to balance your budget and needs to find a home care option for you.
Get Started with a Free Caring Consult